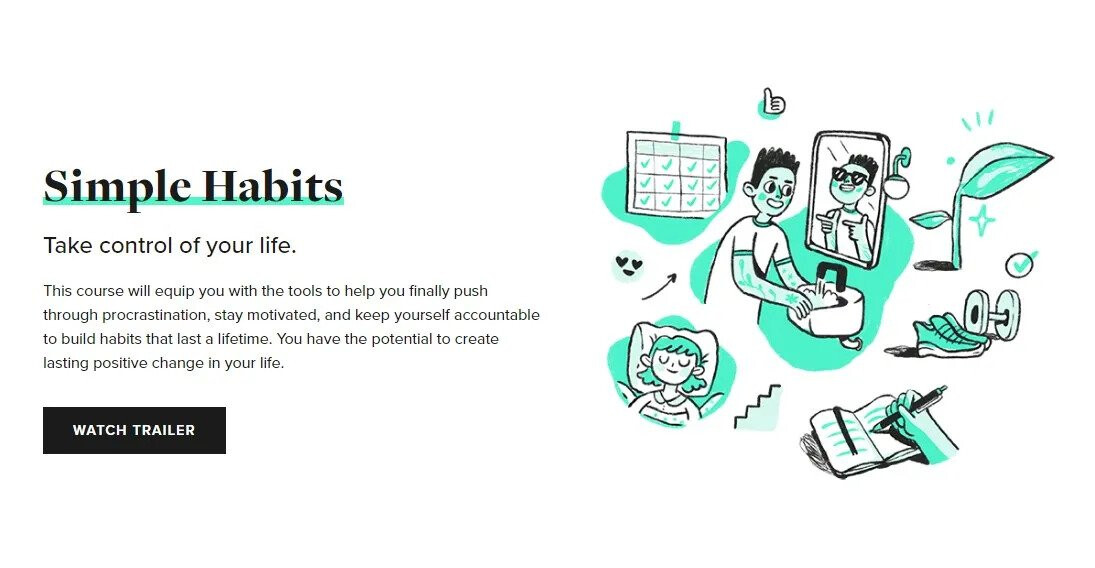 Take control of your life.
This course will equip you with the tools to help you finally push through procrastination, stay motivated, and keep yourself accountable to build habits that last a lifetime. You have the potential to create lasting positive change in your life.
Intro
So, what's this course all about?
The 5 biggestthings you'll learn in this course.
How to successfully build any habit of your choice.
The mindset you need to stay motivated towards your goals.
The 4 specific tactics that will improve your discipline.
How to get true accountability that will help you stay on track.
How to create a habit plan for the first 30 days and beyond.
You should take this course if…
You've struggled to build habits in the past.
You fall deep into the black hole of procrastination.
You're dedicated to self-growth and committed to unlocking your potential.
Your friends know you as Captain Chaos**.**
You shouldn't take it if…
You're looking for quick habit hacking tips.
You think it's going to be easy (habit change takes work).
You're not ready to get serious about taking control of your life.
You'd rather poke yourself in the eye than work on yourself.
The Deets
How one simple habit changed my life.
Discover the keys to habit discipline.
Dial down your procrastination
Learn my strategies to help you control your mindset and your environment
Supercharge your motivation
Complete self-exploration exercises that help you unlock the 'why' behind your habit growth.
Amp up your accountability
Make your habits stick for good with tools that keep you on track.
How to build habits for life
Anyone who's made a New Year's Resolution knows just how difficult lasting change can be. So, what does it take to build habits for life? I'll share how to get clear on your "why" so you'll be committed for the long haul, and I'll teach you how to get back on track when you've failed. Half the battle is predicting when you'll slip up so you can adapt accordingly.
Learn strategies to break bad habits
Building new habits is one thing, but breaking bad ones is an entirely different story. Whether you're trying to reduce your screen time, quit social media or cut back on sugar, this course will teach you how to create a plan for effectively dismantling your bad habits.
Stay motivated with daily text messages
Get 30 days of opt-in text messages to keep you accountable to your habit. Each morning I'll personally send you one text message that's intended to inspire, motivate and give you rocket fuel as you kickstart your habit. You can re-start your 30 days of texts whenever you're feeling unmotivated or trying to build a new habit in the future.
Get immediately download Matt D'Avella (Slow Growth Academy) – Simple Habits
Hit me with that courseoutline!
Size 1gb but if you follow the course correctly, it'll change your life.
Page: Self-development Course by Matt D'Avella | Simple Habits (slowgrowth.com)
Download:
Simple-Habits-Academy-by-Matt-DAvella.torrent (123.0 KB)