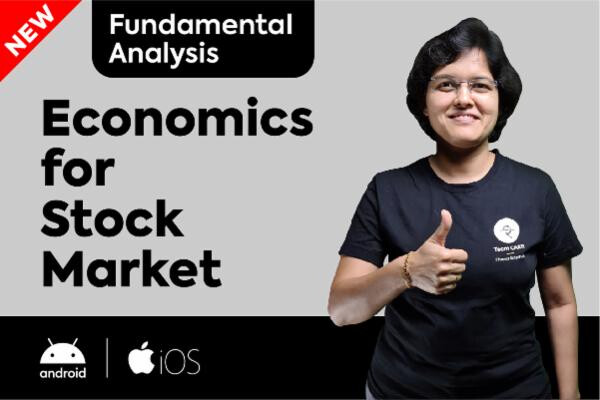 Request : Hi guys can you please upload new 2 Rachana mam courses…
Have you ever wondered how does stock market move? Have you ever wondered how does the economy of a country influences its stock market? Have you ever wondered how do the market gurus on various channels talk about the future of markets?
Stock market is magic and magic can be learnt. With this course, you can understand how various economic parameters affect the stock market, where is a specific industry headed, how politics have an impact on stock market, and many more fascinating things.
Introduction to Fundamental Analysis

Role of Fundamental Analysis in Stock Market

Types of Fundamental Analysis
a. Qualitative Analysis
b. Quantitative Analysis
Common Myths around Fundamental Analysis

Economy Analysis
a. How to identify the economic condition of the country with the help of stock markets
b. Learning more than 10 different economic indicators like
i. Gross Domestic Product (GDP)
ii. Index of Industrial Production (IIP)
iii. Purchasing Managers Index (PMI)
iv. Inflation
v. Cash Reserve Ratio (CRR)
vi. Repo Rate
vii. Unemployment Rate, etc.
c. Understanding the correlation of these parameters with stock market
d. Understanding the impact of Politics on stock market
Industry Analysis
a. Learning to identify the industry types
i. Cyclical
ii. Non-cyclical
b. Learning to identify the stage of industry
i. Nascent
ii. Matured, etc.
c. Understanding the impact of Government policies on the industry
Course duration:
The course Duration is approx 6 Hrs. This course is Pre-recorded. You can watch it anytime and anywhere from your registered android / ios application for a validity of 1 Year (365 Days).
Additional Benefits:
Along with the precise knowledge, you will get the following benefits.
Certificate (For certification, it is mandatory to complete the course and secure 60% Marks in the MCQ test)

Email/ WhatsApp support to clear your doubts.
Instructor Information:
CA Rachana Ranade "Naam to suna hi hoga :D"
CA Rachana is one of the top finance educators in India with 13 years of experience in teaching stock market, personal finance, and auditing in funny and lucid language. Teaching concepts regarding the stock market to non-finance students is her speciality. Rachana has simplified financial knowledge and has an enviable 3.5M followers on YouTube and 1,56,000 active learners on her website.