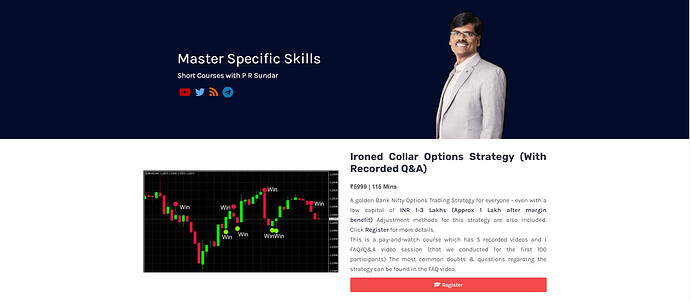 Hey I am in need of this Ironed Collar Options Strategy Course By PR Sundar. Please help me with this or Pm me if you have access to it.
Ironed Collar Options Strategy (With Recorded Q&A)
₹5999 | 115 Mins
A golden Bank Nifty Options Trading Strategy for everyone - even with a low capital of INR 1-3 Lakhs (Approx 1 Lakh after margin benefit) Adjustment methods for this strategy are also included. Click Register for more details.
This is a pay-and-watch course which has 5 recorded videos and 1 FAQ/Q&A video session (that we conducted for the first 100 participants) The most common doubts & questions regarding the strategy can be found in the FAQ video.