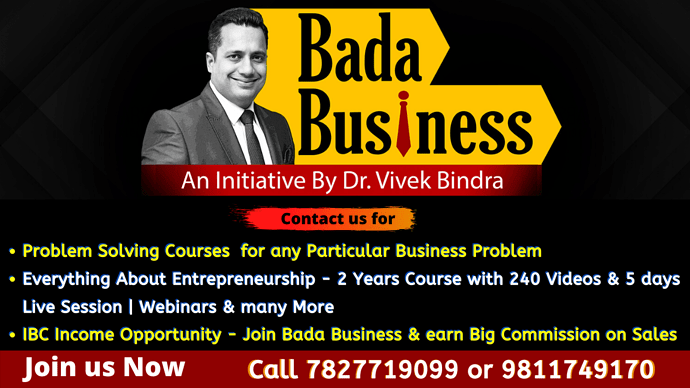 How to Start a Startup By - Mr. Sanjay Kathuria, Mr. Paritosh Sharma, Mrs. Samriti Grover
LEARN STRATEGIES TO START A BUSINESS IN 90 MINUTES - by Dr. Vivek Bindra (International Business Coach & Motivational Speaker)
Driven by our Hon'ble PM Shri Narendra Modi ji's vision of 'Vocal for Local' we are coming up with a Free Webinar in Hindi especially for Solopreneur and Students .
The Webinar would see effective strategies for Indian Students and aspiring entrepreneurs learn about a diverse range of business strategies. including
Qualities required to be a successful businessman
Team Player vs Leadership
Scenario Thinking
and much more to bounce back and succeed even during the times of COVID-19.
Dr Vivek Bindra is inviting you to join the success with this webinar where you will learn to be successful.
Dr. Vivek Bindra is an International Motivational Speaker Leadership Consultant & Business Coach . He has been awarded an Honorary Ph.D. Degree Doctor of Philosophy.
Register now to attend the event. For more information you can contact: Mr. Avinash (+91)82-82-82-52-11
How to Start a StartUp | Step by Step | Freelancer | Dr Vivek Bindra
Enjoy


DISCLAIMER : No Copyright Infringement Intended, All Rights Reserved to the Actual Owner.

This content has been shared under Educational And Non-Profit Purposes Only.

For Copyright Content Removal Please Contact the Original Poster (OP)
DuForum have no control over the shared content and nature of the external sites.