How to Get Grammarly Premium Cookies For Free - 2022 | Updated and Working
STEP 1 Download this chrome extension: Cookie-Editor
Step 2. Open Grammarly website
Step 3. click on the cookies editor icon
Step 4. select delete all button
Step 5. select the import option
Step 6. Paste cookies and click on import.
Please Never Logout. If possible then do it on the chrome incognito tab.
Delete the old cookies first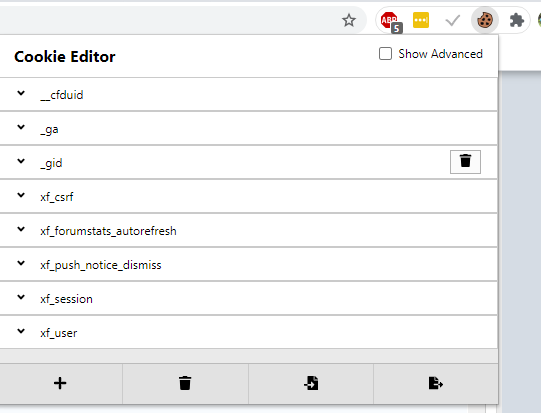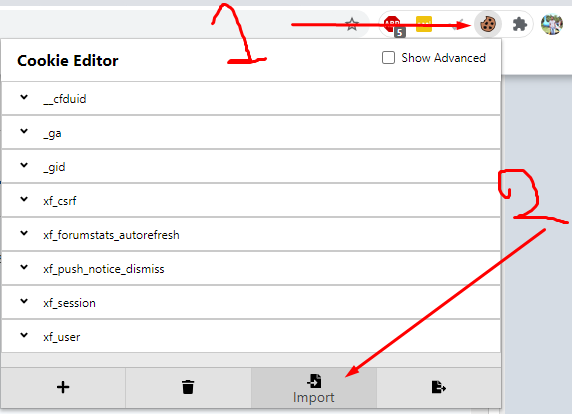 [
    {
        "domain": ".grammarly.com",
        "expirationDate": 1636078163,
        "hostOnly": false,
        "httpOnly": false,
        "name": "_gcl_au",
        "path": "/",
        "sameSite": null,
        "secure": false,
        "session": false,
        "storeId": null,
        "value": "1.1.1205080023.1628302163"
    },
    {
        "domain": ".grammarly.com",
        "hostOnly": false,
        "httpOnly": false,
        "name": "grauth",
        "path": "/",
        "sameSite": null,
        "secure": false,
        "session": true,
        "storeId": null,
        "value": "AABJrnG82A3cLdvcvQ-TO_Sz5zVtaBzux-zVN3uYJSwZrPYCcN4cMwGbMx6QKpYKYm5orzqECPANDxpT"
    },
    {
        "domain": ".grammarly.com",
        "expirationDate": 1629780037.227741,
        "hostOnly": false,
        "httpOnly": true,
        "name": "redirect_location",
        "path": "/",
        "sameSite": null,
        "secure": true,
        "session": false,
        "storeId": null,
        "value": "eyJ0eXBlIjoiIiwibG9jYXRpb24iOiJodHRwczovL2FwcC5ncmFtbWFybHkuY29tL2RvY3MvbmV3In0="
    },
    {
        "domain": ".grammarly.com",
        "expirationDate": 1692848443,
        "hostOnly": false,
        "httpOnly": false,
        "name": "_ga_CBK9K2ZWWE",
        "path": "/",
        "sameSite": null,
        "secure": false,
        "session": false,
        "storeId": null,
        "value": "GS1.1.1629776435.3.0.1629776443.0"
    },
    {
        "domain": ".grammarly.com",
        "expirationDate": 1690101949,
        "hostOnly": false,
        "httpOnly": false,
        "name": "driftt_aid",
        "path": "/",
        "sameSite": null,
        "secure": true,
        "session": false,
        "storeId": null,
        "value": "65503fa8-29d5-412f-a3d4-3a312e95a91c"
    },
    {
        "domain": ".grammarly.com",
        "expirationDate": 1629862834,
        "hostOnly": false,
        "httpOnly": false,
        "name": "_gid",
        "path": "/",
        "sameSite": null,
        "secure": false,
        "session": false,
        "storeId": null,
        "value": "GA1.2.1142507518.1629776435"
    },
    {
        "domain": ".grammarly.com",
        "expirationDate": 1631025425,
        "hostOnly": false,
        "httpOnly": false,
        "name": "_gac_UA-6331378-16",
        "path": "/",
        "sameSite": null,
        "secure": false,
        "session": false,
        "storeId": null,
        "value": "1.1623249425.EAIaIQobChMIwdX4p-OK8QIVCQRgCh2_xgC4EAAYASAAEgI2CvD_BwE"
    },
    {
        "domain": ".grammarly.com",
        "expirationDate": 1661312440.226131,
        "hostOnly": false,
        "httpOnly": false,
        "name": "experiment_groups",
        "path": "/",
        "sameSite": "no_restriction",
        "secure": true,
        "session": false,
        "storeId": null,
        "value": "fsrw_in_sidebar_allusers_enabled|denali_capi_all_enabled|extension_new_rich_text_fields_enabled|gdocs_for_chrome_enabled|officeaddin_outcomes_ui_exp5_enabled1|gb_tone_detector_onboarding_flow_enabled|completions_beta_enabled|premium_ungating_renewal_notification_enabled|small_hover_menus_existing_enabled|quarantine_messages_enabled|gb_snippets_csv_upload_enabled|gb_in_editor_premium_Test1|officeaddin_upgrade_state_exp2_enabled1|gb_analytics_mvp_phase_one_enabled|gb_rbac_new_members_ui_enabled|ipm_extension_release_test_1|client_controls_dynamic_config_enabled|extension_assistant_bundles_all_enabled|gb_analytics_group_filters_enabled|officeaddin_proofit_exp3_enabled|gdocs_sidebar_allusers_enabled|gdocs_for_all_firefox_enabled|gb_snippets_cycle_one_enabled|gb_analytics_mvp_phase_one_30_day_enabled|auto_complete_correct_safari_enabled|fluid_gdocs_rollout_enabled|officeaddin_ue_exp3_enabled|officeaddin_upgrade_state_exp1_enabled1|safari_migration_inline_disabled_enabled|completions_release_enabled1|fsrw_in_assistant_all_enabled|autocorrect_new_ui_v3|emogenie_beta_enabled|apply_formatting_all_enabled|shadow_dom_chrome_enabled|denali_link_to_kaza_enabled|extension_assistant_experiment_all_enabled|gdocs_for_all_safari_enabled|extension_assistant_all_enabled|safari_migration_backup_notif1_enabled|auto_complete_correct_edge_enabled|takeaways_premium_enabled|safari_migration_popup_editor_disabled_enabled|extension_check_manakin_v2_experiment_enabled|safari_migration_inline_warning_enabled|gdocs_new_mapping_enabled|officeaddin_perf_exp3_enabled|officeaddin_muted_alerts_exp2_enabled1|latency_slow_down_control"
    },
    {
        "domain": ".grammarly.com",
        "expirationDate": 1943834963,
        "hostOnly": false,
        "httpOnly": false,
        "name": "ga_clientId",
        "path": "/",
        "sameSite": null,
        "secure": false,
        "session": false,
        "storeId": null,
        "value": "1261777575.1628302163"
    },
    {
        "domain": ".grammarly.com",
        "expirationDate": 1631025426,
        "hostOnly": false,
        "httpOnly": false,
        "name": "_gcl_dc",
        "path": "/",
        "sameSite": null,
        "secure": false,
        "session": false,
        "storeId": null,
        "value": "GCL.1623249426.EAIaIQobChMIwdX4p-OK8QIVCQRgCh2_xgC4EAAYASAAEgI2CvD_BwE"
    },
    {
        "domain": ".grammarly.com",
        "hostOnly": false,
        "httpOnly": false,
        "name": "csrf-token",
        "path": "/",
        "sameSite": null,
        "secure": false,
        "session": true,
        "storeId": null,
        "value": "AABJrhAYrF9/EP0wBhnGI1JBysLGrc4jca4r1A"
    },
    {
        "domain": ".grammarly.com",
        "expirationDate": 1651129314,
        "hostOnly": false,
        "httpOnly": false,
        "name": "_hjid",
        "path": "/",
        "sameSite": null,
        "secure": false,
        "session": false,
        "storeId": null,
        "value": "2c3457bb-f8e0-4da4-9076-744b184986fe"
    },
    {
        "domain": ".grammarly.com",
        "expirationDate": 1636518157,
        "hostOnly": false,
        "httpOnly": false,
        "name": "_fbp",
        "path": "/",
        "sameSite": null,
        "secure": false,
        "session": false,
        "storeId": null,
        "value": "fb.1.1624701279676.785867136"
    },
    {
        "domain": ".grammarly.com",
        "expirationDate": 1692848435,
        "hostOnly": false,
        "httpOnly": false,
        "name": "_ga",
        "path": "/",
        "sameSite": null,
        "secure": false,
        "session": false,
        "storeId": null,
        "value": "GA1.1.1261777575.1628302163"
    },
    {
        "domain": ".grammarly.com",
        "expirationDate": 1631025426,
        "hostOnly": false,
        "httpOnly": false,
        "name": "_gcl_aw",
        "path": "/",
        "sameSite": null,
        "secure": false,
        "session": false,
        "storeId": null,
        "value": "GCL.1623249426.EAIaIQobChMIwdX4p-OK8QIVCQRgCh2_xgC4EAAYASAAEgI2CvD_BwE"
    },
    {
        "domain": ".grammarly.com",
        "expirationDate": 1629862835,
        "hostOnly": false,
        "httpOnly": false,
        "name": "_uetsid",
        "path": "/",
        "sameSite": null,
        "secure": false,
        "session": false,
        "storeId": null,
        "value": "0acc0340048d11ecb1d6737de63acd3f"
    },
    {
        "domain": ".grammarly.com",
        "expirationDate": 1663472435,
        "hostOnly": false,
        "httpOnly": false,
        "name": "_uetvid",
        "path": "/",
        "sameSite": null,
        "secure": false,
        "session": false,
        "storeId": null,
        "value": "7beb7350f72411eb9b4643629f1c4f62"
    },
    {
        "domain": ".grammarly.com",
        "expirationDate": 1629780037.227944,
        "hostOnly": false,
        "httpOnly": false,
        "name": "browser_info",
        "path": "/",
        "sameSite": null,
        "secure": false,
        "session": false,
        "storeId": null,
        "value": "CHROME:88:COMPUTER:SUPPORTED:FREEMIUM:WINDOWS_10:WINDOWS"
    },
    {
        "domain": ".grammarly.com",
        "expirationDate": 1690101949,
        "hostOnly": false,
        "httpOnly": false,
        "name": "drift_aid",
        "path": "/",
        "sameSite": null,
        "secure": true,
        "session": false,
        "storeId": null,
        "value": "65503fa8-29d5-412f-a3d4-3a312e95a91c"
    },
    {
        "domain": ".grammarly.com",
        "expirationDate": 1629884437.227876,
        "hostOnly": false,
        "httpOnly": false,
        "name": "funnelType",
        "path": "/",
        "sameSite": null,
        "secure": false,
        "session": false,
        "storeId": null,
        "value": "free"
    },
    {
        "domain": ".grammarly.com",
        "expirationDate": 1943662163.068775,
        "hostOnly": false,
        "httpOnly": false,
        "name": "gnar_containerId",
        "path": "/",
        "sameSite": "no_restriction",
        "secure": true,
        "session": false,
        "storeId": null,
        "value": "hqdm6cn4r1ka0uo2"
    },
    {
        "domain": ".grammarly.com",
        "expirationDate": 1659838182.275857,
        "hostOnly": false,
        "httpOnly": true,
        "name": "tdi",
        "path": "/",
        "sameSite": "no_restriction",
        "secure": true,
        "session": false,
        "storeId": null,
        "value": "ojsfc1r1ks543vsw1"
    }
]

Note: Kindly let me know in the comment if it does not work, I will update ASAP
THANK YOU