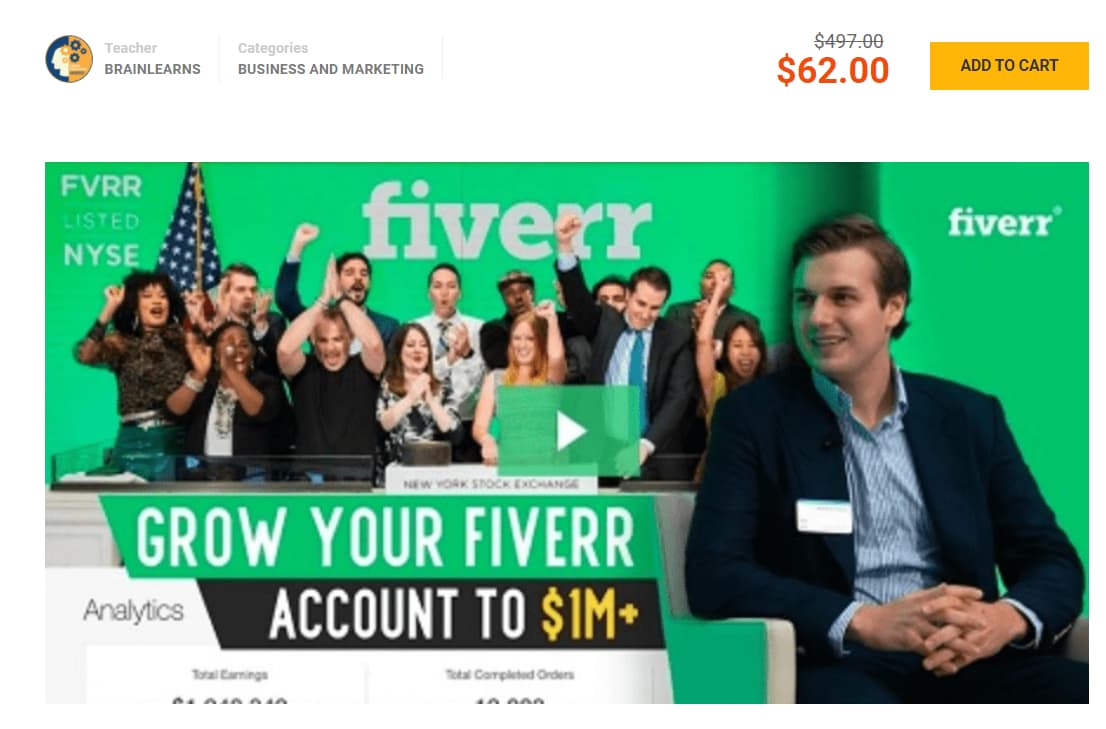 This course is highly recommended for the absolute beginner freelancer. Those who have skills but want to start making money online with it. Kichigin's advice on
Freelance Hustle – Hustle With Fiverr
Hustle With Fiverr is a freelancing course by Vasily Kichigin. The course teaches you how to use Fiverr to its maximum potential. Kichigin, the course creator, claims he can help you grow your Fiverr account "up to a million dollars". The course also claims to show you how to turn your freelancing into a long term sustainable business, rather than just a side hustle.
Freelance Hustle Intro Freelance Hustle teaches students how to maximize freelancing profits.
About Vasily Kichigin
Vasily Kichigin is a social media entrepreneur who started his journey in 2015 on Fiverr, while still in college. After some trial and error, he discovered his knack for social media. In 2 years, he went from being a new freelancer to being a top rated seller on the platform. He was able to convert his solo side hustle into a profitable business. Now he leads a team of employees and has finished over 19,000 jobs on the Fiverr platform. He's transitioned from a freelancer worker, to full time gigs, to now teaching other freelancers.
Freelance Hustle Vasily Kichigin
The course creator, Vasily Kichigin, is highly established amongst the freelancing community.
Freelance Hustle's Pricing
The course is priced differently based on the outlet where you purchase it from. Kichigin has since retired the course, and focuses more on consulting with freelancers. As such, there are multiple outlets selling his course. You should search around to get the best deal. Typical prices range from $497 to $697 dollars. You get free access to the first lesson for signing up on his website. The course gets you access to a private Facebook group where you can network and ask your questions to other like minded freelancers.
Freelance Hustle Online Vasily's course is no longer offered through his website, as he focuses more on consulting and other ventures.
The refund policy is well defined. It is not generous but at least you know what you are getting into when you buy the course. Refunds given only when requested by email, by a student who has purchased the course less than 14 days prior, and has viewed less than 20% of the course. Whether or not they've clicked on the complete and continue button, makes no difference. Keep in mind, I'm going off of what's legally stated, not experience.
Freelance Hustle's Curriculum
The course is split into 3 sections with further subsections within them. The first section is all about getting started with Fiverr. The second section talks about marketing your gigs and increasing your sales. The third and final section has tips on how to triple your sales.
Freelance Hustle Course Overview An inside look at the course overview for it's first module.
Getting Started On Fiverr
Get immediately download Freelance Hustle – Hustle With Fiverr
Here, Vasily takes you through the ins and outs of building a Fiverr profile from scratch. He heavily emphasizes for new freelancers to consider picking the skills that they are the most comfortable with. Essentially, you have to play to your strengths. He teaches you to check whether your skills have the potential to make money by checking what other freelancers are offering with the same skill set. If there is competition in a niche, it is a good place to start. A lot of gigs for a niche means that the niche is generating revenue. He goes on to help you find gigs tangential to your skill set based on Fiverr search. Once you decide on a gig, he asks you to focus on it and do it well.
Freelance Hustle Getting Started Kichigin explaining the basics of getting started as a freelancer.
This is very good advice, and from the first module itself, Kichigin is proving to give sound advice, rather than just technical tutorials.
In the other sections, he talks about the importance of building yourself as a personal brand; creating an awesome seller profile, profile pictures, videos, etc. You have to make sure you select an SEO friendly title, pick the correct tags to use for the gig, write a compelling description, communicating delivery times and pricing clearly, adding a FAQ and more. Then he goes over tips to improving existing gigs that some people may have trouble with. He devotes quite some time to the power of recurring gigs. Kichigin explains that recurring gigs are the golden goose that are going to help you build a long term business, rather than just a few gigs.
He makes a key distinction that you should never copy paste descriptions from other sellers. Kichigin instead offers a strategy to get your first clients and reviews when you are getting started. He goes over this in detail because this is going to be the hardest part for any new freelancer. His strategy explains how to get the "social proof" needed to give your account some momentum.
Increasing Your Sales
This section is longer, and is split into three subsections
Getting more clients
In the first subsection, Vasily gets into the different strategies to optimize your gigs to drive more traffic to them and get more sales. To prove his experience, he shows the actual analytics from his Fiverr dashboard. He analyzes the click through rate and suggests tips to increase it by going over your profile's pricing packages, FAQ section, and media. He even explains his A/B testing efforts for finding the perfect image that resonates with clients, something quite advanced. Kichigin then talks about the cross promotion that he does between his Fiverr account and Youtube channel, while also touchings on the "Bring Your Own Business"s initiative by Fiverr. Mainly, he talks about the importance of starting your own personal website to showcase your portfolio and how to find clients outside of Fiverr. There is a very important video in this subsection where he shows you how to spy on your competitors and steal their traffic. He finally talks about using Instagram, Youtube and Quora for marketing your business and generating leads.
Freelance Hustle Analytics Kichigin going over the importance of understanding analytics.
This section is very important, and contains a lot of very good information.
Managing Work
In the next subsection, he talks about project management. Managing orders is more vial then pursuing new ones. Once you start driving traffic, if you don't fulfil the orders, you are going to get negative reviews and lose possible recurring clients. He talks about Trello, Google Sheets and other Fiverr tools that you can use to better manage your tasks. Overall, it's a large section on time management and organization, which is something every freelancer needs, but not many course creators go over.
Customer Support
In the final subsection, he goes over a pain point that many freelancers are going to feel sooner or later. When things go wrong, the best way to mitigate damage to your personal brand and to keep your clients are discussed in this section. He primarily goes over dealing with negative feedback on your Fiverr profile.This is very useful as negative reviews can really tank a brand, especially if you're just starting up.
I can pretty much summarize this section with this piece of advice: it's okay to say no to gigs, and to fire clients. If a client is too picky or expecting too much of you, there is only going to be problems going forward. Remember, your relationship with your client is also decided by you, and if one client is affecting your ability to service your other clients, you need to cut them off. This is an absolute essential lesson of freelancing.
Increasing Your Sales 3x
The final section starts out with emphasizing on building a long term relationship with your clients. As stated, recurring clients are going to be the bread and butter of the freelancing business. It's stable income and work that can lead to raises and more work. In this section, he teaches you how upsell your regular clients in order to maximize your work. Vasily explains that is really important to understand a client's needs and the potential of their work before pitching them upsells. There has to be a balance between the value that you offer and the aggressiveness with which you pursue them.
Freelance Hustle Profile Optimization Vasily Kichigin delving into Fiverr to show proper profile optimization.
In the final part of the course, he talks about the skills required to scale up your business and hire a team. He also talks about the pitfalls of mistrust and the importance of meeting virtual assistants in person to build a rapport with them. This is a very hard, but very profitable jump. Vasily is showing you how to transform your side hustle into a potential business, something he's shown he has experience doing.
Kichigin's Course Quality
Freelance Hustle's quality is very high. All the videos are slickly produced with crisp editing and great graphics. The sound and camera quality is exceptional. You won't have any problems following the content. Vasily's accent can be a little distracting, but that's the only negative thing we have to say. The course and its materials really feel like they are worth the price tag.
Freelance Hustle Production Quality Freelance Hustle has a very high production quality, set with intros, outros, and graphics.
Does Freelance Hustle Deliver?
There are a lot of nuggets of wisdom sprinkled throughout the course that will help you avoid costly mistakes. This course does a great job of organizing all that information in a neat package, from starter to a personal business. Where this course shines most is for those of you who are getting started as a freelancer. The value in this course can mean the difference between making giving up and making your first few sales. And once you get your first few sales, the ball starts rolling.
The course markets itself as a complete guide for freelancers, and it is indeed so. In this sense, the course completely delivers on it's expectations. However, before you dive into the new landscape, it is a good idea to get a firm grasp on the skills of the niche you choose. Whether that be photoshop, writing, or web work, don't expect to learn the skills from this course. You only learn how to marketing yourself and those skills.
Who Freelance Hustle Best For?
This course is highly recommended for the absolute beginner freelancer. Those who have skills but want to start making money online with it. Kichigin's advice on transitioning to recurring clients is so good, I'm confident that even experienced freelancers are going to get some tips that they may be overlooking in their careers.
If you are going to take freelancing seriously and possibly turn it into a career then you should definitely consider buying and spending time with this course, regardless of the number of years you have under your belt.
This course, as mentioned, is not designed to teach you you're gig or skill. If you are already have a business set up, or you're buying this course to teach yourself photoshop, don't. This course is strictly on how to market any skills you currently have, not teach you new ones.
Is Vasily Kichigin's Course Worth the Money?
The course is definitely worth the money that you pay for it. It creates a roadmap for eventually starting your own sustainable business, something very few courses do. The lessons offered here are invaluable for every freelancer starting out. That kind of long term vision is what sets this course apart from the others in its category. Kichigin's course is reasonably priced for the value it provides.
Freelance Hustle Featured In Vasily Kichigin has been featured in many reputable places.
One drawback of the course is that since Vasily created Freelance Hustlers, Fiverr's competition has drastically increased. There are sellers from low income countries offering services at almost a tenth of the price compared to sellers in the west. Additionally, the strategies of marketing yourself on Fiverr have also matured. Sellers now have had years to learn and establish themselves on Fiverr. That's not to say that the strategies here are worthless, but you may not see quick success. Take the timeframes he gives you with a pinch of salt. New freelancers should prepare for rough waters in their journey.
The lessons in the course are laid out in easy to follow steps and should be reproducible by most people. For the ease of use and density of information, this course is definitely worth the money.
Freelance Hustle Alternative Courses
Because Kichigin's course is so well made, there are few alternatives I can recommend. Here's are a few that do compare if you are on a budget:
Seth Godin's Freelancer Course (Udemy)- If you are looking to learn about platforms other than Fiverr, try this. If you master the basics in this course, then switching to a different platform or sales technique won't be a big issue for you. This course is good for those on a budget, or for those looking to use platforms aside from Fiverr.
Learn From Fiverr- This is an online learning hub from Fiverr themselves. If you are on a strict budget, consider using this. All the material is free comes from Fiverr themselves.
Freelance Hustle Learn From Fiverr Learn From Fiverr is a free course hub offered by Fiverr themselves.
Our Final Verdict
Rarely does a course come along that is offering legitimate value, much more than what you can learn for free. This is an example of such a course. Vasily Kichigin is friendly and trustworthy. The materials have a high production value. The course provides an immense amount of value. If you are thinking about freelancing full time then you are going to get a lot of guidance from this course.
The reality is that there are many ways to make money online as a freelancer. Fiverr is just the tip of the iceberg. What this course does that makes it so good is teaching you how to build your clientele to eventually grow out of Fiverr itself. His long term roadmap is replicable and valuable for anyone who's starting to freelance.
This is one of those few times where I highly recommended this course.
Pros
High quality course materials
Great lessons for beginners and experienced freelancers
Trustworthy and honest coaching style
Very valuable long term plan
Cons
Advice is slightly outdated
Not supported by Kichigin anymore