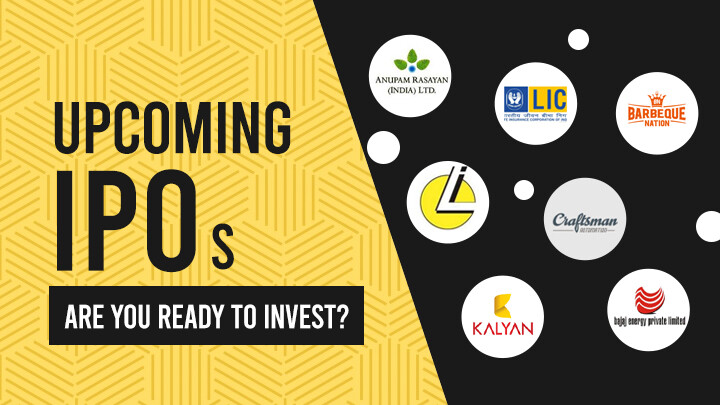 Upcoming IPOs in 2021
While we do not yet have a clear list of IPOs scheduled for 2021, various estimates indicate that over 30 firms intend to raise more than Rs 30,000 crores through the capital markets.
Here are a few firms that are projected to go public, or to initiate their initial public offerings, in 2021. The majority of these initial public offerings were scheduled to begin in December 2020 but have been delayed for unclear reasons.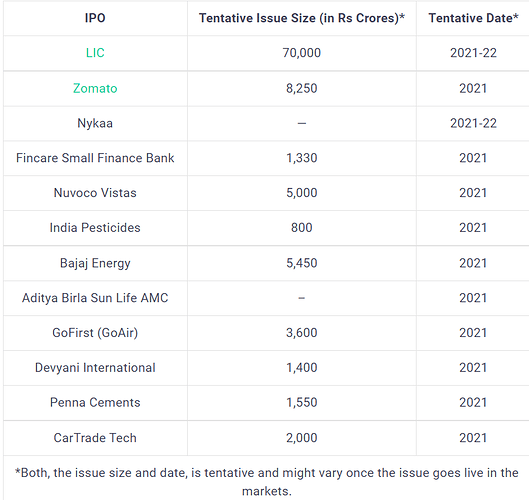 1. LIC
Finance Minister Nirmala Sitharaman announced in Union Budget 2021 that the Life Insurance Corporation of India's (LIC) IPO will be completed in 2021.
Issue size: Around Rs 70,000-80,000 crores.
It has also been said that 10% of the issue size will be reserved for policy holders.
2. Zomato
Zomato Limited is a platform that connects customers, restaurant partners, and delivery partners, serving their multiple needs.
As of December 31, 2020, Zomato Limited was present in 526 cities in India, with 350,174 Active Restaurant Listings. It also has a presence in 23 countries across the globe.
The IPO is expected to open up for subscription in 2021. The issue size is Rs 8,250 crores.
3. Nykaa
Nykaa is looking at a stock exchange listing by the end of 2021 or early 2022 at a valuation of $3 billion. Recently Nykaa raised an undisclosed amount which valued the company at $1.8 billion approximately.
4. Fincare Small Finance Bank
The company plans to raise Rs 1,330 crores through the IPO.
The offer size will be a combination of a fresh issue worth Rs 330 crores and an offer for sale worth Rs 1,000 crores.
Fincare SFB is a microfinance firm based out of Bangalore.
5. Nuvoco Vistas
Nuvoco Vistas is the cement arm of the household brand Nirma Ltd.
The issue size of the IPO is around Rs 5,000 crores of which Rs 1,500 crores will be a fresh issue and the rest an offer for sale.
6. India Pesticides
The company is an agrochemical R&D company.
The public offer comprises a total of Rs 800 crores. Of the total issue size, Rs 100 crores will be a fresh issue and Rs 700 crores will be an offer for sale.
The net proceeds from the issue will be utilised for working capital requirements.
7. Bajaj Energy
The IPO size of the company is expected to be around Rs 5,450 crores, of which Rs 5,150 crores will be a fresh issue.
The company has said that it is looking to acquire Lalitpur Power's 1,980 MW from the proceeds of the IPO.
The company is one of the largest private thermal generation companies.
8. Aditya Birla Sun Life Asset Management Company
Aditya Birla Sun Life AMC is a subsidiary of Aditya Birla Capital.
The company filed its draft red herring prospectus in April 2021.
The entire issue will be an offer for sale (OFS) of 28.5 lakh shares.
ABSL AMC is a mutual fund company.
As per Morningstar, the company's AUM as of March 31, 2021, was Rs 2.66 lakh crores.
9. Apeejay Surrendra Park Hotels
The hotel chain may raise up to Rs 1,000 crores in its IPO.
The IPO may comprise a fresh issue of up to Rs 400 crores and an offer-for-sale (OFS) of up to Rs 600 crores.
10. Shyam Steel
The IPO size will be around Rs 500 crores, which will be a combination of an offer for sale and fresh issue.
The company is based out of Kolkata.
11. Annai Infra Developers
The IPO size is expected to be around Rs 200-250 crores.
The company is an engineering, procurement and construction firm in the water management and irrigation segment specifically.
12. SAMHI Hotels
The IPO size is around Rs 1,800-2000 crores.
This comprises a fresh issue of Rs 1,100 crores.
The company may be using the proceeds to pay off the indebtedness and for general corporate purposes.
A few prominent hotels it is managing are Courtyard by Marriot in Bengaluru, few branches of Fairfield by Marriot in Bengaluru, Four Points by Sheraton Visakhapatnam among others.
13. Studds Accessories
The company is a manufacturer of helmets, motorcycle accessories and riding gears. Studds had begun its operations in 1973.
The company's managing director had said in an interview in August 2020 that the company has an approximate market share of around 30%, which it aims to scale to 40% in the next three year.
14. GoFirst (erstwhile GoAir)
The IPO will be worth Rs 3,600 crores.
They aim to repay the debt of around Rs 2,000 crores owned to Indian Oil Corp for jet fuel.
15. Devyani International
The company has the largest franchisee of Pizza Hut, KFC, and Costa Coffee.
They plan to raise Rs 1,400 crores through the IPO, out of which Rs 400 crores will be a fresh issue, 12.5 crore shares will be sold through an offer for sale.
The purpose is to repay all borrowings of around Rs 360 crores.
16. Penna Cements
The company is planning to raise Rs 1,550 crores through its IPO.
The fresh issue is Rs 1,300 crores and Rs 250 crores is through an offer for sale.
The company wants to repay borrowings, up-grade raw materials and set up a waste heat recovering plant.
17. CarTrade Tech
The Warburg-Pincus-backed company expects to raise Rs 2,000 crores through an offer for sale.
CarTrade is an online auto classifieds platform.