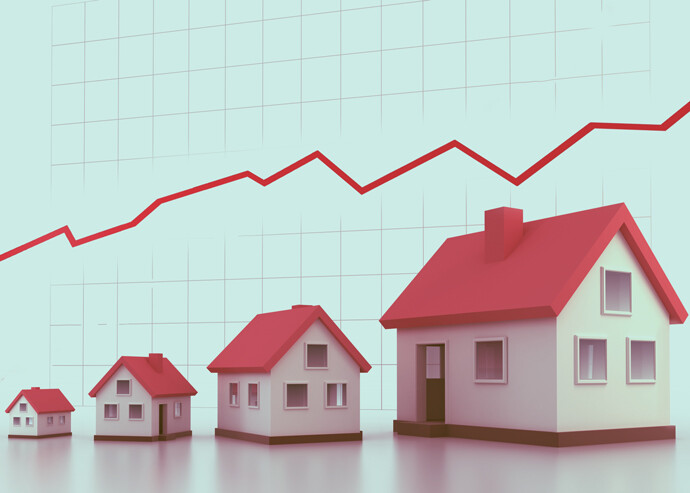 Real estate sector in India is expected to reach USD 1 trillion in market size by 2030, up from USD 200 billion in 2021 and contribute 13% to the country's GDP by 2025. According to Knight Frank – a global real estate consultant – India's realty sector is showing signs of healthy growth in 2022. With the steady performance and quick revival, the real estate sector regained the buyers' and investors' trust and has further picked up the growth momentum. In this article, we cover the best real-estate stocks in India.
The real estate sector is one of the most recognized sectors, especially when it comes to India. It is a significant contributor to the Indian economy and has witnessed major ups and downs over the years. Most recent of such upheavals was caused by the Covid-19 pandemic. Amidst the lockdowns, the real estate industry faced plenty of resistance, but it has wriggled itself out of the situation. The government has also come out with several relaxations and schemes to support the industry. The real estate sector is the second largest employment generator after agriculture in India, providing around 5.5 crore people. It is also expected that this sector will receive more non-resident Indian (NRI) investment, both in the short term and the long term.
Top real estate stocks in India
#1

Indiabulls Real Estate
Indiabulls Real Estate (NSE:IBREALEST) is one of the largest real estate companies in India, with a well-diversified presence in both commercial and residential real estate development and has projects across the price spectrum, from mid-income, premium to the super luxury space. The company has delivered in excess of 13.4 million sq ft of developed space. The company has an office rental portfolio of 4.9 million sq ft and a JV portfolio of 4.1 million sq ft office space. Further it has commercial development with a leasable area of 3.15 million sq ft under construction. In December 2021, the company board had approved raising up to INR1,500 crore through one or more Qualified Institutions Placements (QIP).
Financial report of Indiabulls Real Estate as on 9 February 2022.
P/E: 360
ROCE: 5.94%
CMP/Sales: 3.28
Debt/Equity: 0.37
What makes it among the best real estate stocks in India isn't exactly captured in numbers. It is the ownership change which is expected to unlock value in the counter. Indiabulls group founder Sameer Gehlaut has cut down his stake to just 0.26% as part of the scheme to merge the company with a platform owned by Embassy and Blackstone. With this ownership change and entry of private equity investor at the helm, Indiabulls Real Estate is likely to see a massive change in how investors look at it just as the real estate cycle also stages a turnaround.
#2

Oberoi Realty
Oberoi Realty (NSE:OBEROIRLTY) is a real estate development company headquartered in Mumbai, Maharashtra. It is best known for its Oberoi Garden City project which is based on the concept of a "city within a city". The project includes 4 residential developments namely Oberoi Seven, Oberoi Woods, Oberoi Exquisite, and Oberoi Esquire. Oberoi Realty has completed over 42 projects at various locations in Mumbai aggregating to about 11.89 million sq ft while another 45.31 million sq ft is currently under development.
Financial report of Oberoi Realty as on February 2022.
P/E: 31
ROCE: 9.47%
CMP/Sales: 12.8
Debt/Equity: 0.22
Oberoi Realty's one year return stands at staggering 65% underlining why it is among the best real estate stocks in India. The stock price has marched ahead along with the marked improvement in business operations. In the last 3 years, the company registered 18% CAGR in sales revenues. The same metric stands at just 8% for 5-year timeframe. In an industry plagued by delays, Oberoi Realty has an enviable track record of timely possession and customer centricity which explains the consistent run up in sales and stock price. Despite the spurt in price, the stock is available at a P/E ratio of 31.
#3

DLF – Biggest among the best real estate stocks
DLF (NSE:DLF) is the largest publicly listed real estate company in India, with residential, commercial, and retail properties in 15 states and 24 cities. Nevertheless, majority of its operations are based out of Delhi National Capital Region (NCR). The company's business model is somewhat differentiated given the relatively high exposure to recurring revenue from rentals.
Financial report of DLF as on February 2022.
P/E: 54.7
ROCE: 4.29%
CMP/Sales: 16.3
Debt/Equity: 0.16
Like most other realty sector stocks, DLF underwent a long correction and yet the stock nosedived 50% in 2020 as the world grappled with Covid-19 pandemic. Nevertheless, it has tripled from its low levels in April 2020 and it is not difficult to see why. The company has massively deleveraged its balance sheet and is now in a much better shape. Although its average sales growth in 3 years is in negative zone, the situation turned around in the trailing 12 months. In the first six months of FY22, DLF achieved INR25 billion of sales bookings vs full year guidance of INR40 billion. With real estate demand picking up in its key market of Delhi NCR, DLF is a hard to miss real estate stock.
Since India is such a large country, there is no dearth of real estate plays in our country. As such, these three stocks may not perfectly reflect regional trends and variations. Nevertheless, there is little doubt about the increasing demand of developed real estate in India, especially in the aftermath of Covid-19 pandemic. The pandemic has triggered a seemingly irreversible trend of Work From Home (WFH), effectively skewing demand in favor of larger units.
Source: https://ipocentral.in