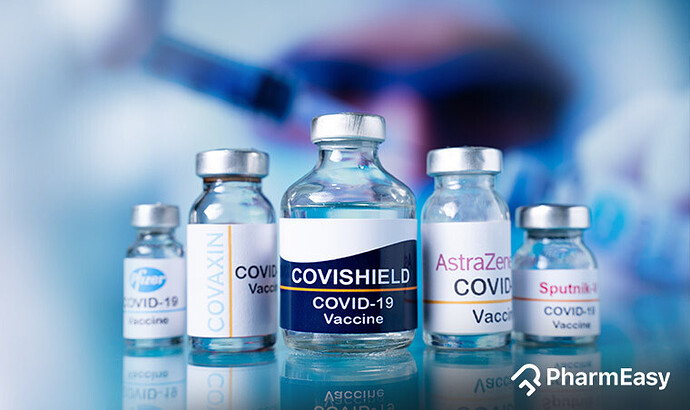 The COVID-19 immunization campaign has already begun in India, and many people are still unaware of the differences between the two vaccines – Covaxin and Covishield.
The third phase, in which those over the age of 18 can accept life-saving shots, began on April 1.
The government has not yet allowed people to choose whatever vaccine they want, but the results of the first phase indicate that both vaccines being administered in India are safe and effective.
Covaxin vs Covishield – Which one is better?
Well, we have compiled all the information to give you a better understanding of the formulation and every other detail about the vaccine you are going to get to stay safe from the Coronavirus . Have a look:
Developer
Covaxin has been developed by Hyderabad-based Bharat Biotech International Ltd in association with the Indian Council of Medical Research (ICMR) and the National Institute of Virology (NIV).
Covishield has been developed by the Oxford-AstraZeneca and is being manufactured by the Serum Institute of India (SII).
Type of Vaccine
Covaxin is an inactivated viral vaccine. This vaccine is developed with Whole-Virion Inactivated Vero Cell-derived technology. They contain inactivated viruses, which can not infect a person but still can teach the immune system to prepare a defence mechanism against the active virus.
These conventional vaccines have been in use for decades now. There are vaccines for some other diseases as well which are made using the same technology. These diseases are –
Seasonal influenza
Rabies
Polio
Pertussis, and
Japanese encephalitis
Covishield has been prepared using the viral vector platform which is a totally different technology.
A chimpanzee adenovirus – ChAdOx1 – has been modified to enable it to carry the COVID-19 spike protein into the cells of humans. Well, this cold virus is basically incapable of infecting the receiver but can very well teach the immune system to prepare a mechanism against such viruses.
The exact technology was used to prepare vaccines for viruses like Ebola.
Doses
There is no difference between the two vaccines in terms of dosage. Both of them are administered as 0.5ml in the upper arm region.
But, the dosing schedule for both vaccines however varies. The second dose of Covaxin is scheduled after 4-6 weeks after the first dose, while for Covishield vaccines it is 84 days or 12-16 weeks after the first dose.
Storage Guidelines
Both Covishield and Covaxin can be stored at 2-8° Centigrade, which is a household refrigerator temperature. This makes both the vaccines most suited for Indian conditions as most of the vaccines here are kept at the same temperature range.
This also makes the transportation and storage of both vaccines easier.
Efficacy
Both the vaccines have shown more than satisfactory results ever since the inoculation started in India.
The effectiveness of the Covishield vaccine is nearly 90% as per the global reports and Covaxin's 81% according to interim 3rd phase trial results.
Side effects
After getting vaccinated, you may experience pain at the site of injection. Some people may also experience side effects such as headache, joint pain, and may feel feverish. These side effects do not persist for long and generally go within a day or two.
Approvals
Covaxin has currently been granted approval for emergency restricted use, while Covishield has been allowed for restricted use in emergency situations that can potentially prevent coronavirus infection in people aged 18 years and above.
Covaxin has begun its clinical trial in children aged above 2 years of age.
However, the Drugs Controller General of India (DGCI) has not given a market use authorization clearance to any of the vaccines till now.
Price of the vaccines
Both the vaccines are being inoculated free of cost at government health set-ups. However, the cost of vaccines at the private hospital varies. Thus, you should always contact the hospitals for the exact cost of the vaccine.
Mode of administration
Both Covaxin and Covishield are intramuscular vaccines.
Age of beneficiaries
Covishield and Covaxin have been approved for people aged 18 years and above however, isn't any assurance if the vaccine can be given to children and pregnant women.
At PharmEasy, we wanted to extend our support to the Government of India in its COVID vaccination drive. And thus, with our 'Go Corona Go Initiative ', we are offering a token of appreciation to every user who has got vaccinated. Basically, we're on the lookout for SUPERHEROES who will help make India COVID-free. For every vaccine taken by a citizen, we would be giving a flat ₹150 PharmEasy cash in the wallet to the users that can be used on their next medicine order. Click here to get it now!
Summing up the differences between Covishield and Covaxin
| Covishield | Covaxin |
| --- | --- |
| The interval between 1st and 2nd doses is 12-16 weeks | The interval between the 2 doses is 4-6 weeks |
| Efficacy after the second dose can vary from 70-90% | This vaccine can be 78-95% effective after the second dose |
| People above 18 years of age can opt for this vaccine | This vaccine can be injected into people above 18 years of age. |
The latest updates on the COVID vaccine
296 million doses of the COVID vaccine have been given in India. More than 51 million people have received 2 doses of the vaccine and are considered fully vaccinated.
Top health officials in India have stated that both Covaxin and Covishield are effective against the mutated, UK/South Africa/Brazil virus.
Sputnik V vaccine has been given emergency use authorization in India. In India, the Russian vaccine will be produced by Dr Reddy's Laboratories. A recent study found no strong allergies caused by Sputnik V.
India will produce 850 million doses of the Sputnik V vaccine every year.
In terms of efficacy, Sputnik V outshines both Covishield and Covaxin with 91.6 % effectiveness compared to Covishield's nearly 90% (global reports) and Covaxin's 81% (interim 3rd phase trial results).
Bharat Biotech will increase the production of Covaxin to 12 million doses a month.
Sputnik will be the third vaccine to be used in India against coronavirus and will be delivered to India this month. The volume of Sputnik V vaccine production in India will be gradually increasing and may surpass 50 million doses per month.
All the vaccine producers must sell 50% of their stock to the states through the free market. The remaining 50% will go to the central government.
Now that all vaccines will be available in the open market, the vaccine manufacturers will also be able to decide the price of each dose of vaccine depending on demand and supply.
The risk of contracting COVID after 2 doses of Covaxin or Covishiled is minuscule. A study has found 0.03% of people caught COVID after the 2nd dose of Covishield and 0.04% tested positive after the 2nd dose of Covaxin.
Lactating women can also take the vaccine.
Difference between Sputnik V and the other two vaccines
| Sputnik | Covishield and Covaxin |
| --- | --- |
| Developed by Gamaleya Research Institute of Epidemiology in association with Dr Reddy's | Covishield is developed by the SII, Oxford University and AstraZeneca whereas Covaxin is developed by Bharat Biotech and ICMR |
| 91.6 percent effective | Covishield can be up to 90% effective and Covaxin has been found to be 78-81% effective |
| The interval between the 2 doses is likely to be 21 days | The gap between the doses of Covishiled and Covaxin are respectively 12-16 weeks and 4-6 weeks |