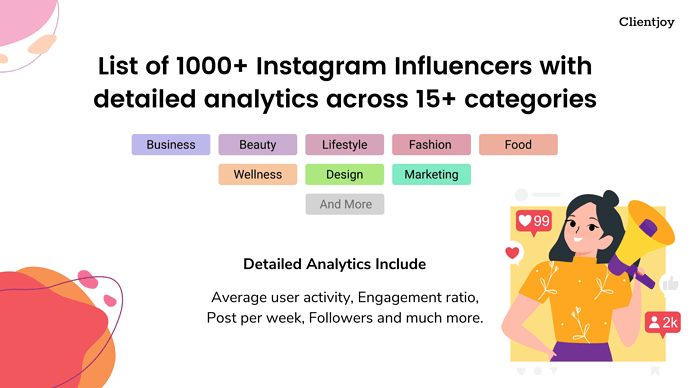 Hope you all are staying positive and testing negative!
This time, we have got something different for you.

Have you ever been influenced to buy something when you saw your favorite actor or actress using them? Of course, you have! We all have been influenced at least once.
That is why we researched a little more on this and discovered that influencer marketing is one of the biggest strategies used by marketers in 2020-2021. However, finding quality influencers for your brand can be a bit difficult, especially with SO many influencers available.
So, we at Clientjoy created this Influencer Marketing Toolkit. In this, you'll find:

1000+ list of influencers across 10 categories like Lifestyle

, Entertainment

, Technology​:iphone: etc.

An Ultimate Guide to Influencer Marketing eBook.

Blog on the Best strategies for Influencer Marketing and list of tools to use.
Basically, everything you will need for your Influencer Marketing Campaign.
Our team has worked on curating and creating this list of influencers for you. So, let us know if this resource helped you, and do share it if you like what you see.