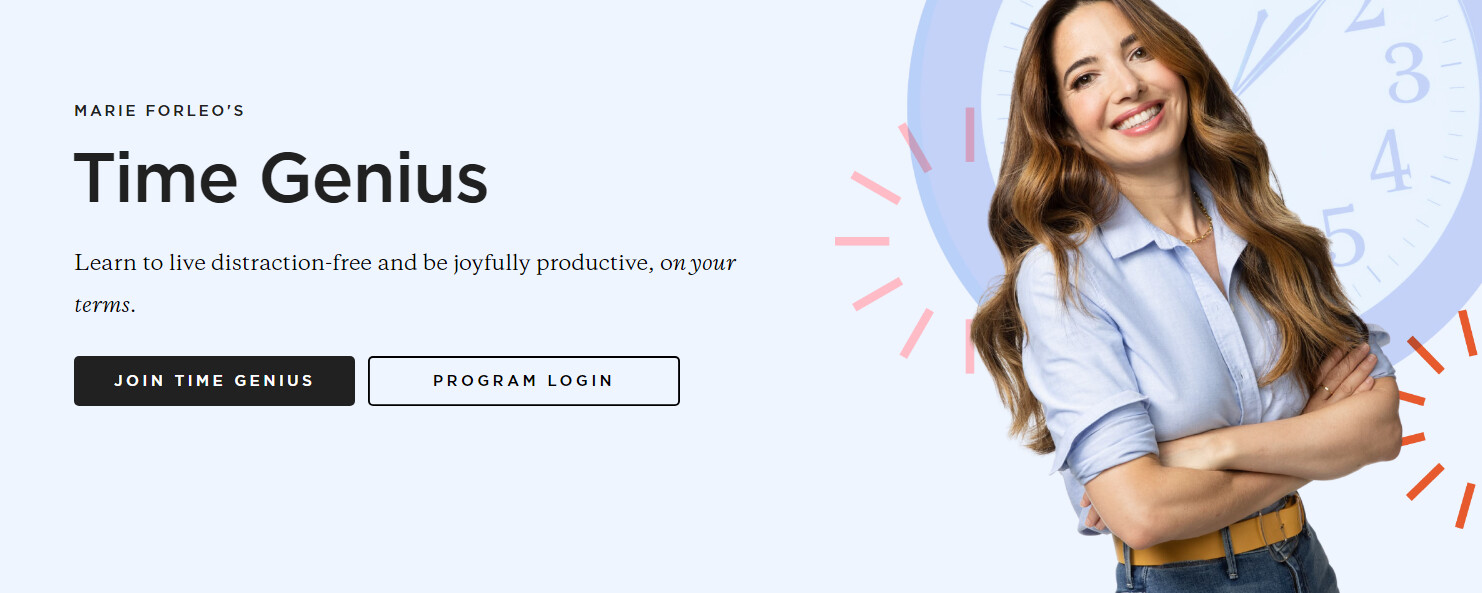 What is Time Genius?
Time Genius is a live online experience that will catapult your joy, focus, and accomplishment FAST.
If you're constantly drained, distracted, and overstretched — it's not your fault. Millions of smart, hard working people have gotten sucked into a toxic and soul-crushing nightmare — constantly scrambling, scattered, and exhausted, but never seeming to get anything significant done.
In this program you'll get a fail-proof and flexible system that shows you step-by-step how to take back control of your time, wealth, and life — while rejecting the "Time Stress Trap" most of the world is caught in.
How does Time Genius work?
Time Genius is designed to be a fully immersive experience so that you don't just learn the material, but live it. Beyond the 5 core training Modules, you'll get live video group coaching with Marie Forleo, plus support from a team of expert Mentor Coaches to help guide you throughout the program.
YOU'LL ALSO GET:
Fun Sheets to practice and sharpen your new skills.
The Simplify To Amplify Audit — a powerful exercise that reveals which activities get you the best ROI for your time, energy, and creativity.
A foolproof Focus Checklist with exactly what you need to do before you sit down to work.
4 Advanced Bonus Trainings that are NOT available anywhere else — that's nearly $2,000 in additional value, completely free!
Sales page: Time Genius | Join the VIP Waitlist to Learn More (marieforleo.com)
Download: MEGA