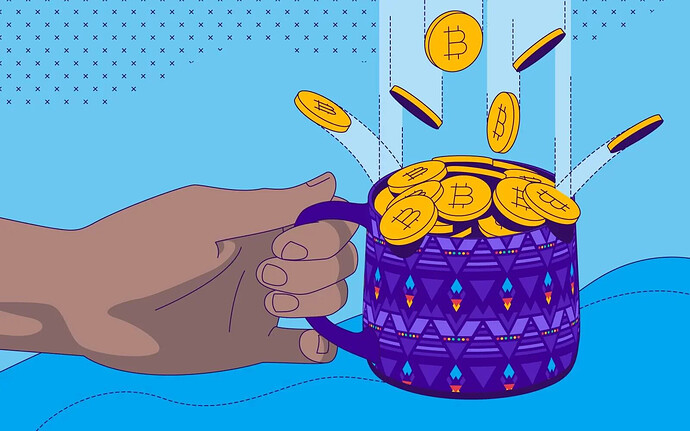 Many of us know what it's like to hear: you would probably be a millionaire now if you had invested in Bitcoin (BTC) early… It hurts, but we can do nothing about it—unless we have a time machine that we can borrow from anyone.
Many folks didn't know what it was when BTC got on stage. But there are a handful that noticed and invested the diamond in the rough early on. These individuals have become Bitcoin whales, a word that frequently denotes to people or groups have a vast quantity of money in the space.
But then the question arises: who owns Bitcoin the most? Well, we'll have to look into a couple of places: individuals, businesses and wallet addresses.
Individuals who own the most bitcoin
Satoshi Nakamoto
We couldn't really talk about Bitcoin without mentioning its enigmatic creator, could we? Satoshi Nakamoto authored the Bitcoin: a Whitepaper on Peer-to-Peer Electronic Cash, which resulted in the development and deployment of the BTC network.
The Genesis Block (or Block 0) was released in 2009, and Nakamoto remained on the project's active development team until he left one and a half years later. Despite several claims, no one knows Satoshi Nakamoto's genuine identity to this day.
Nakamoto was one of the first to mine Bitcoin but did not pay them out, which means he owns a substantial amount of BTC—approximately 1 million BTC.
Tyler and Cameron Winklevoss
The Winklevoss twins, best known for their landmark Facebook lawsuit against Mark Zuckerberg, have built a name for themselves in the cryptocurrency field. They put the millions of dollars they gained from the hidden settlement in cryptocurrencies. They now claim to own approximately 1% of all Bitcoin in circulation.
Tyler and Cameron Winklevoss also founded Gemini, one of the world's first regulated cryptocurrency exchanges, in the intention of attracting institutional investors and day traders to the Bitcoin ecosystem.
Barry Silbert
Barry Silbert is the founder and CEO of the Digital Currency Group, a venture capital firm specialising in the digital currency market. Silbert is also dubbed "The King of Crypto" due to his firm's investment in over 100 Bitcoin companies—one of the first firms to do so.
Silbert announced in 2014 that his Bitcoin Investment Trust had hit the 100,000 Bitcoin milestone.
Blythe Masters
Blythe Masters, a former Managing Director of J.P. Morgan Chase, was appointed CEO of Digital Asset Holdings in 2014. Digital Asset develops encryption-based processing solutions to help traders increase their efficiency, security, settlement speed, and compliance when trading Bitcoin.
Masters continues to serve as a reference for top firms in the areas of blockchain, financial services, and technology. Although her actual net worth is unknown, there are tales of her large investments in the companies she founded, and she remains unquestionably one of the industry's most powerful women.
Dan Morehead
Dan Morehead was a former Goldman Sachs trader and the founder of Pantera Capital, one of the first investment firms to specialise only on cryptocurrencies. He founded Pantera in 2013 and by 2018, it has grown to become one of the largest institutional investors in cryptocurrency.
Pantera has made investments in a variety of financial firms, exchanges, and even coin trading platforms, and was said to have earned returns of more than 10,000 percent in 2018.
While Morehead's actual net worth is unclear, it is estimated to be in the mid seven-digit range, if not higher.
Companies that own large amounts of Bitcoin
Larger corporations have also taken note of Bitcoin, with some of the world's largest corporations holding Bitcoin worth several million dollars, if not millions, of dollars. According to the information gathered on Bitcoin Treasuries, the following are the top three companies that dominate the space:
MicroStrategy
MicroStrategy is a cloud-based services provider that also offers business intelligence and mobile apps. It was started in 1989 by Michael J. Saylor, Sanju Bansal, and Thomas Spahr, with the help of other investors.
In terms of Bitcoin, they are now in first place with a total of 105,085 BTC, which is equivalent to around 3.4 billion USD and 0.5 percent of Bitcoin's 21 million supply cap at the time of writing.
Tesla
We are confident that everyone is aware of the disruption that Tesla creator Elon Musk is causing in the cryptocurrency field at this point.
According to a filing with the Securities and Exchange Commission, Tesla, an electric vehicle manufacturing business, has joined the ranks of companies that possess bitcoin. According to the report, Tesla made "an aggregate investment of 1.5 billion USD" in Bitcoin, which amounted to around 7.7 percent of the company's cash holdings of 19.384 billion dollars as of the fourth quarter of 2020. According to the document, the transaction was made with the goal of maximising returns and diversifying the company's cash on hand.
Tesla now holds 42,902 bitcoins (BTC), which is equivalent to around 1.4 billion dollars (USD) and 0.204 percent of Bitcoin's 21 million supply ceiling at the time of writing.
Galaxy Digital Holdings
Galaxy Digital Holdings is a crypto-focused merchant bank and investment company aiming to institutionalize the digital asset and blockchain space. They provide asset management as well as investing, advisory, and trading services.
Galaxy Digital Holdings owns 16,400 BTC, amounting to just under 540 million USD and 0.078% of Bitcoin's 21 million supply cap at the time of writing.
At the time of writing, Galaxy Digital Holdings had 16,400 bitcoins, worth slightly less than 540 million dollars and accounting for 0.078 percent of Bitcoin's 21 million supply ceiling.
Richest Bitcoin addresses
If you think that the companies holding BTC have a lot, wait until you take a look at some of the richest Bitcoin addresses in the world:
| BTC Address | # of BTC | USD value (at time of writing) | % of coins |
| --- | --- | --- | --- |
| 34xp4vRoCGJym3xR7yCVPFHoCNxv4Twseo | 299,427 BTC | 9,850,549,446.00 USD | 1.60% |
| bc1qgdjqv0av3q56jvd82tkdjpy7gdp9ut8tlqmgrpmv24sq90ecnvqqjwvw97 | 163,011 BTC | 5,362,735,878.00 USD | 0.8693% |
| 1P5ZEDWTKTFGxQjZphgWPQUpe554WKDfHQ | 115,613 BTC | 3,803,436,474.00 USD | 0.6166% |
| 35hK24tcLEWcgNA4JxpvbkNkoAcDGqQPsP | 103,452 BTC | 3,403,363,896.00 USD | 0.5517% |
| 37XuVSEpWW4trkfmvWzegTHQt7BdktSKUs | 94,505 BTC | 3,109,025,490.00 USD | 0.5040% |
| 38UmuUqPCrFmQo4khkomQwZ4VbY2nZMJ67 | 85,064 BTC | 2,798,435,472.00 USD | 0.4536% |
| 1FeexV6bAHb8ybZjqQMjJrcCrHGW9sb6uF | 79,957 BTC | 2,630,425,386.00 USD | 0.4264% |
| 3LYJfcfHPXYJreMsASk2jkn69LWEYKzexb | 73,601 BTC | 2,421,325,698.00 USD | 0.3925% |
| bc1qa5wkgaew2dkv56kfvj49j0av5nml45x9ek9hz6 | 69,370 BTC | 2,282,134,260.00 USD | 0.3700% |
| 3Kzh9qAqVWQhEsfQz7zEQL1EuSx5tyNLNS | 65,001 BTC | 2,138,402,898.00 USD | 0.3466% |
We know that these addresses just look like random strings of numbers and letters, but wow these wallets seem to be filled to the brim with BTC .
These are the whales who live alongside us in this enormous ocean; should we be concerned about them? Who knows what will happen? A lot more research needs to be done, but one thing is certain: these Bitcoin whales recognised the value of BTC long before the rest of us.
Since its inception more than 12 years ago, Bitcoin has finally gained widespread acceptance; everyone is aware of it, but not everyone understands how to use it.
Some time ago, we wrote about how Bitcoin may be a terrific store of value, and perhaps these Bitcoin whales were the first to recognise this. However, more and more individuals are beginning to recognise it as well, and Bitcoin is beginning to be used for purposes other than investment.
With the development of real-world applications such as more efficient payment methods, sending cheaper remittances, and even wealth preservation, bitcoin is beginning to gain traction.
Because of all of these Bitcoin whales rallying behind BTC, it's possible that the digital asset revolution is getting underway. While it is currently uncertain when Bitcoin will achieve widespread acceptance, we may take this as an indication that it has attracted the attention of some of the world's largest corporations and most powerful individuals.
Some of us may believe that it is too late, but we are here to assure you that it is not the case. It is true that adoption is increasing, but it is doing so slowly, and the revolution has only just begun.