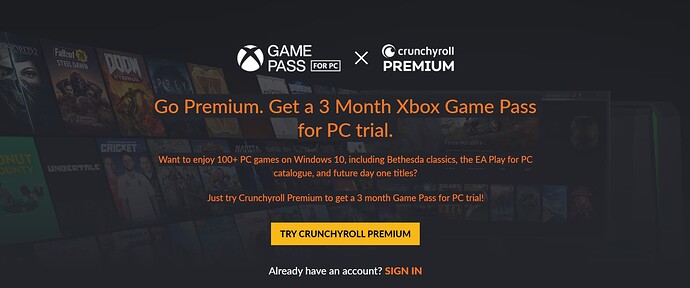 XBOX GAME PASS FOR PC (3 MONTHS) + CRUNCHYROLL PREMIUM
Go Premium. Get a 3 Month Xbox Game Pass for PC trial.
Want to enjoy 100+ PC games on Windows 10, including Bethesda classics, the EA Play for PC catalogue, and future day one titles?
Just try Crunchyroll Premium to get a 3 month Game Pass for PC trial!
Link: https://www.crunchyroll.com/xbox-gamepass-2021/en/index.html

BIN FOR CRUNCHYROLL


BIN: 44919236655xxxxx
IP: No VPN Change Payment Country to BOLIVIA


ZIP: 0000

BIN FOR MICROSOFT


BIN: 4016580162xxxxxx
DATE: 05/24
IP: Doesn't Matter!
ADDRESS: Doesn't Matter!
How to use these BINS