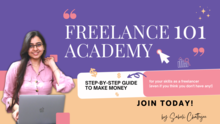 Five (5) Modules of FREELANCING :
Module 1: Basics of Freelancing
Module 2: First Steps To Get Started
Module 3: Get Clients Online
Module 4: Client Onboarding
Module 5: High Paying Clients
How Can Freelance 101 Academy Help You?

How to identify and learn profitable skills that are in demand globally to earn a full-time income - even if you only want to work part-time!

How to get and attract Well-Paying Clients - Indian and International.

How to create a Portfolio, send Proposals and use Contracts as a Freelancer.

How to make 1Lac INR+/month as a Freelancer using High Paying Client Attraction Strategies.
Link to Access the Premium Course:
null - YouTube (Course Only)
Freelance 101 Academy (BONUSES & TEMPLATES):